12/15/2021 – Lutz, Florida: Attenutech, a leader in the online radiation safety protection equipment, has released a new line of products built to make the lives of medical professionals easier. Lead Apron Disposal Solution.
Attenutech has created a mail back service in which you can purchase Attenutech lead apron disposal boxes. Simply put the used apron into the Attenutech box, and stick it in the mail. Then Attenutech will handle the recycling process from start to finish. Also, this saves time and is highly convenient for many medical service workers and hospitals. The hospital will then get a certificate stating proof of correct disposal in the mail.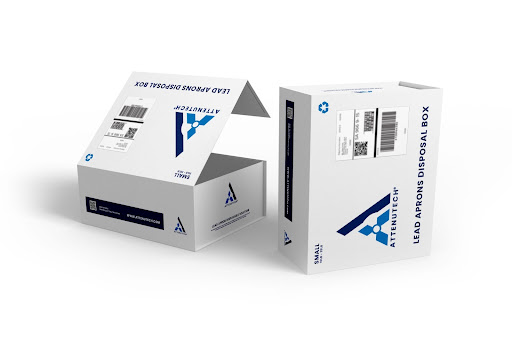 They are a company founded with the commitment to provide the best radiation protection in high-risk surgical and Interventional procedure environments. Because it is a biohazard, lead aprons that protect patients from x-ray radiation cannot go in the regular garbage. Medical professionals and hospitals must discard these items properly. Also, they must provide proof and documentation of proper disposal. Attenutech has dedicated itself to helping its medical professional customers achieve this efficiently and easily. The Lead Apron Disposal Solution is available in 3 different sizes, small (10lb – 24lb), large (25lb – 50lb), and special (50lb or more).
There are ways to avoid your lead apron garments for men and women from becoming hazardous waste. In fact, you can properly recycle them so materials will not go to waste. Reusing and repurposing happens to recycled materials.
The biggest issue for medical offices and hospitals is the need to obtain proper certification of proper disposal. Disposing of equipment in the correct way requires proper certification. This is where Attenutech is happy to step in and provide their quick and easy lead apron disposal service for their customers.
A good reason to consider the benefits of using Attenutech lead apron disposal service is the harmful effects that improperly disposed of lead can have on the environment. Lead aprons contain quantities of lead that can be dangerous and illegal to put in the trash. This lead can seep into nature and water sources, impacting everyday people severely. However, the lead aprons must be disposed of properly in order to make sure the lead does not end up in drinking water. This is why you should put your trust in Attenutech to provide safe and professional transportation of this medical waste. Head to Attenutech's lead apron disposal solutions page today!
About Us:
AttenuTech provides radiation protection products for physicians, techs, nurses, and staff who utilize Fluoroscopy for imaging procedures. At AttenuTech®, we are dedicated to implementing the best radiation protection in high-risk surgical environments. With a manufacturing presence in the United States and Europe, we guarantee the highest quality of products and services in the radiation protection industry. We provide affordable and applicable solutions through state-of-the-art technologies and modern equipment. All AttenuTech® products are CE Certified, and manufactured with strict adherence to applicable laws, standards, and regulations, assuring the highest levels of protection, confidence, and quality.Contact Information:
Like us: https://www.facebook.com/attenutech/
Follow us: https://www.instagram.com/attenutech_radiationprotection
Retweet us: https://twitter.com/attenutech
Contact Detail:
Company Name: AttenuTech®
Contact Person: Ryan Phillips
Email: Send Email
Phone No:1-800-757-2703
Address: 24008 State Road 54 Lutz
State: FL 33559
Country: United States
Website Url: https://www.attenutech.com/


Source: www.PRExhibition.com